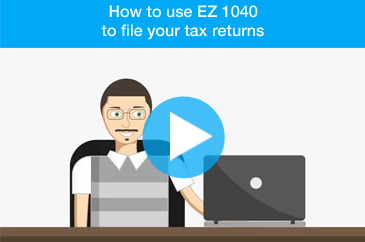 Why Choose ez1040?
Why should I choose ez1040?
Taxes. Done. EZ. That's why. We understand the process of doing your taxes can be daunting. Tax code is more than just complex it's ever changing. With ez1040 there's no need to gather all your documents, make an appointment, drive to an office and meet with someone who isn't even a licensed tax professional. We know it can be scary to complete your taxes on your own using tax software, leaving you wondering if you missed anything. ez1040 is here to make filing your tax returns as easy as possible. Most online tax sites only provide a way for you to complete your tax returns without any review by a licensed tax professional. At ez1040, an actual licensed Certified Public Accountant (CPA) will closely review your tax returns before they are considered complete.
How does ez1040 work?
Just sign up on our website, answer a few questions, then upload your documents. We'll do the rest!
After You File
When will I receive my refund?
If you choose to direct deposit your refund, you will typically receive your refund in as little as 8 days. If you did not choose direct deposit or if your direct deposit information was inaccurate, you will typically receive your refund check within 3 weeks. If you mailed in your tax return instead of e-filing, you will typically receive your refund in 6 weeks or more.
What If I receive a notice or am audited?
We're here for you! Unlike the seasonal tax offices that are open only a few months out of the year, we are we have a team of highly knowledgeable and helpful team of Certified Public Accountants (CPA's) that are available year round to help you deal with the IRS and/or state and local governments. Contact us immediately if you receive a notice so we can get started right away.
Completing Your Taxes
What information should I have before I start?
To receive a free personalized quote, you only need a valid email address. We'll then ask you 10 basic questions about yourself. Based on your answers, we'll determine the best ez1040 package available to you and provide you with an upfront cost. If you're happy with your package and quote, you can then create your ez1040 account and get started with your returns! Your payment information will be taken upon completion of your returns.
How does ez1040 know which package to choose for me?
We'll ask you 10 basic questions about yourself. Based on your answers, we'll determine the best package option available to you. If you forget something, your package can be upgraded at anytime.
Can I file my state and federal taxes with ez1040?
Absolutely! Our CPAs are here to help with your state and federal taxes.
If I only have a 1099, can I still use ez1040?
Yes. A W2 is not a requirement for us to complete your taxes. If your income was only distributed through a 1099, this is not a problem.
What if I have questions?
Our licensed Certified Public Accountants (CPA's) are here for you! If you have any questions, don't hesitate to contact us using our convenient messaging system. Once you log into your account, look for the 'Help' icon on the bottom left of your screen.
Will someone double-check my information?
Yes! This is what makes ez1040 unique. Unlike other online tax preparation websites, you're not alone when you file with us. Your taxes are still reviewed and filed by a real life person, not a computer system.